Five Onion Dip goes way beyond your typical game day appetizer. Creamy, savory, salty and packed with allium flavor, trust me, you're going to want to double this recipe.
Why stop with just one kind of onion for your favorite creamy dip? I'm all for the deep caramelized flavor of onion dip, but adding four more varieties of alliums brings this classic appetizer to an entirely new dimension. This Five Onion Dip features five unique allium varieties (Walla Walla, Vidalia, shallots, red onion and scallions) for a flavor profile that goes beyond any dip you've had before.
Top it off with garlic, vegan Worcestershire sauce, granulated onion (couldn't resist!), and a dusting of smoked paprika for a dish that truly speaks for itself. Whether you're watching the Super Bowl or treating yourself to a night in, this is the ideal situation with pita chips (bonus if they're homemade!).
How to Caramelize Onions
A ton of the sweet-and-savory flavor in this dip comes from carefully caramelizing the onions. This is a process that really can't be rushed. First, cook the onions over medium heat just until they start to brown on the edges. Then turn the heat to low and let them slowly melt for one hour.
This low and slow cooking process allows the natural sugars in the onions to slowly release and caramelize. If you go too high or fast, you'll end up with brunt onion dip. The onions are done when they've cooked down quite a bit and have taken on a deep, luscious amber color.
How to Make Five Onion Dip
While your onions do their thing on the stove, you can prepare the remaining dip ingredients in a mixing bowl. The cream cheese and creme fraiche round out this dish for the creamy and silky smooth texture you expect from onion dip. But instead of letting the dairy take over, add a dash of punchy vegan Worcestershire sauce and fresh, crunchy green scallions. These add brightness and a bit of umami to the dip.
Before combining the caramelized onions with the cream cheese mixture, it's important to let them cool fully. Otherwise, hot onions can melt the dairy and can cause your dip to break, rather than stay creamy and thick.
Five Onion Dip with Easy Homemade Pita Chips
Yield:
10 cups; Serves: 8-10
Total Time:
1 hour
10 minutes
This is a fun and elevated play on onion dip. Build intense allium flavor by melting 5 different varieties of onions as the base of this creamy, cheesy dip. Whenever you can, choose local onions that grow in your community. Any combination will work wonderfully. At the end of the day, this dip will be the first to disappear at any party. And the best part is that you probably have most, if not all, of the ingredients on hand. Dip, dip, hooray! 
Ingredients
¼ cup avocado oil
1 Walla Walla onion, halved and thinly sliced
1 Vidalia onion, halved and thinly sliced
5 shallots, thinly sliced
1 red onion, halved and thinly slice
2 tablespoons minced garlic
1 tablespoon fresh thyme leaves
2 cups creme fraiche or sour cream
2 cups cream cheese, softened
3½ tablespoons vegan Worcestershire sauce
1 tablespoon sea salt
1 tablespoon black pepper
1½ tablespoons granulated onion
1 bunch scallions, very thinly sliced, plus extra for garnish
Smoked paprika for garnish
Serve with homemade pita chips (made with 1 par-baked pizza crust, preferably local)
2 ounces olive oil
Flakey sea salt to taste
Cracked black pepper to taste
Instructions
In a medium skillet, heat the oil over medium heat and add the walla walla, Vidalia, shallots, red onion, garlic, and thyme. Sauté until the onions start to brown, then reduce the heat to low. Cook for 1 hour, stirring regularly until the onions cook down and become very soft and a dark deep amber color.
Meanwhile, in a medium mixing bowl, combine the creme fraiche/sour cream, cream cheese, Worcestershire sauce, salt, pepper, granulated onion, and scallions.
When the onions are melted down, transfer them to a paper towel to absorb any excess oil. Cool completely and roughly chop the onion mixture.
Fold the onion mixture into the creme fraiche mixture and transfer to a serving bowl. Garnish with reserved scallions, smoked paprika, and fresh cracked black pepper; serve with chips or crudité.
To make homemade pita chips, preheat the oven to 350°F.
Slice the pizza crust into thin wedges and arrange on a baking sheet. Lightly brush with olive oil and season with flaky sea salt and cracked black pepper. Bake for 10-12 minutes or until golden brown. Remove from the oven and cool at room temperature.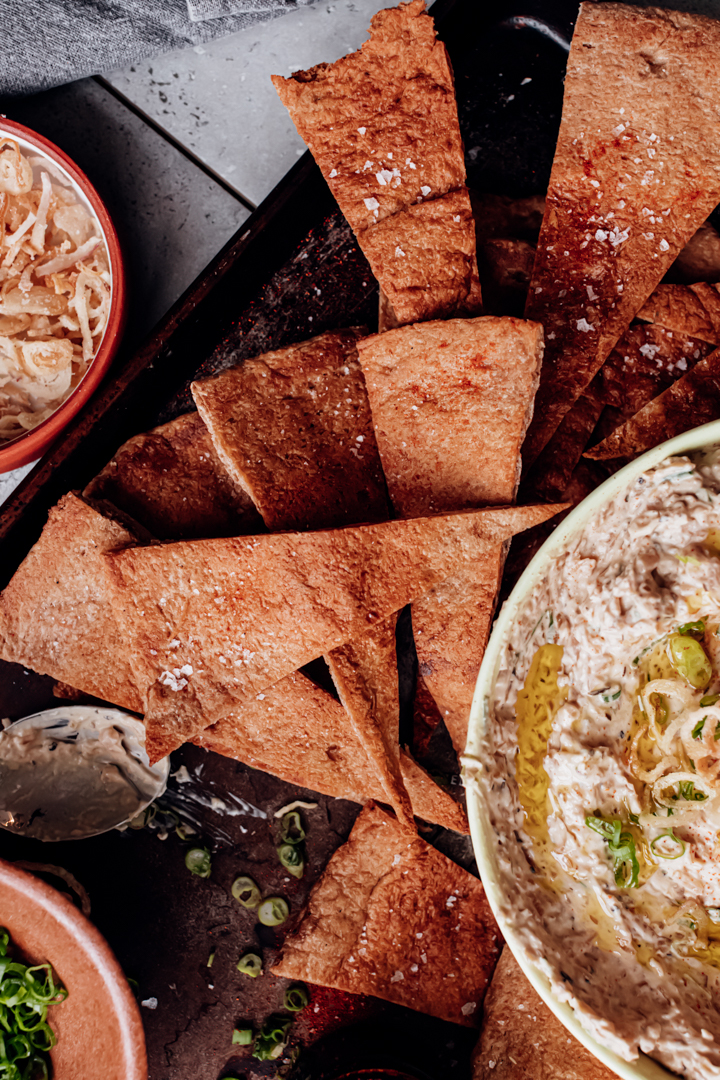 Serving Suggestions
Serve your allium masterpiece with your favorite crunchy pita chips. Or, go a step further and make your own chips with a store-bought par-baked pizza crust. Simply slice the crust into chip shapes, coat them with olive oil, and toast in the oven until golden brown and crisp.
If you love this all-out Five Onion Dip recipe, there are more decadent dishes like it! Follow along on Instagram to catch every one.
Get These Posts in Your Inbox
---
You might also like...