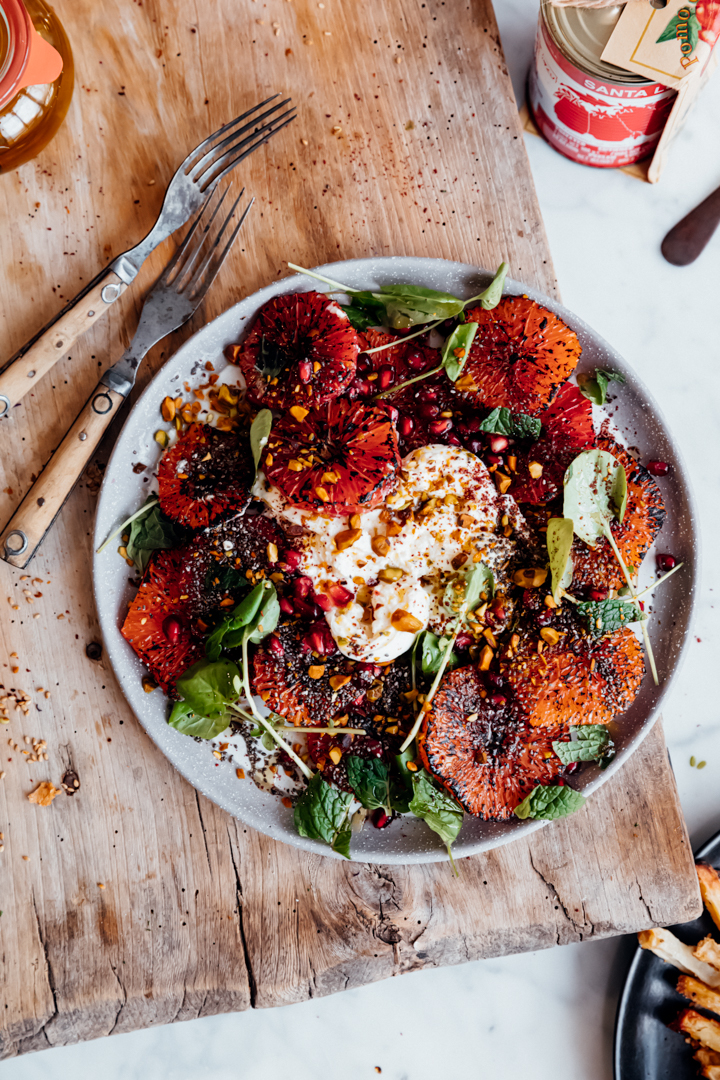 This Blood Orange, Buratta, and Pistachio Salad is an effortless and light wintertime dish that strikes a perfect balance of creamy, crunchy, citrusy, and savory.
While summer might be the height of salads brimming with ripe tomatoes, herbs, and greens, winter is no time to stop enjoying fresh, crunchy salads. Citrus and hearty lettuces are at their peak, adding a whole new world of sweet-and-savory flavors to your salad bowl.
This salad makes the most of the season with two kinds of oranges, creamy burrata cheese, and crunchy pistachios. Fresh mint rounds out each bite with a tingling, herby note. This stunning salad is definitely one to keep in your back pocket to impress guests or treat yourself.
How to Make a Stunning Citrus Salad
Charring your citrus is the secret to really sending this salad over the top. Not only does it make a beautiful, mysterious presentation, the char also adds a subtle smoky flavor that's totally unique and pairs perfectly with burrata and mint.
And the best part is that achieving a slight crisp on your oranges is easier than it looks. If you have a kitchen torch, simply arrange your orange slices on a baking sheet and torch them. Keep the flame moving to avoid burning anything, you just want a slight char. Then flip the slices and char the other side.
If you don't have a torch, no worries. Simply coat each side of the orange slices with a light coating of oil. Heat a large skillet over high heat until very hot (smoke is okay here). Then quickly sear the oranges for about 30 seconds per side. Again, you don't want to burn anything.
I recommend doing this step after your salad is composed in a serving bowl. Then your citrus will still be a bit warm when you serve the salad, which makes a wonderful balance to the chilled cheese.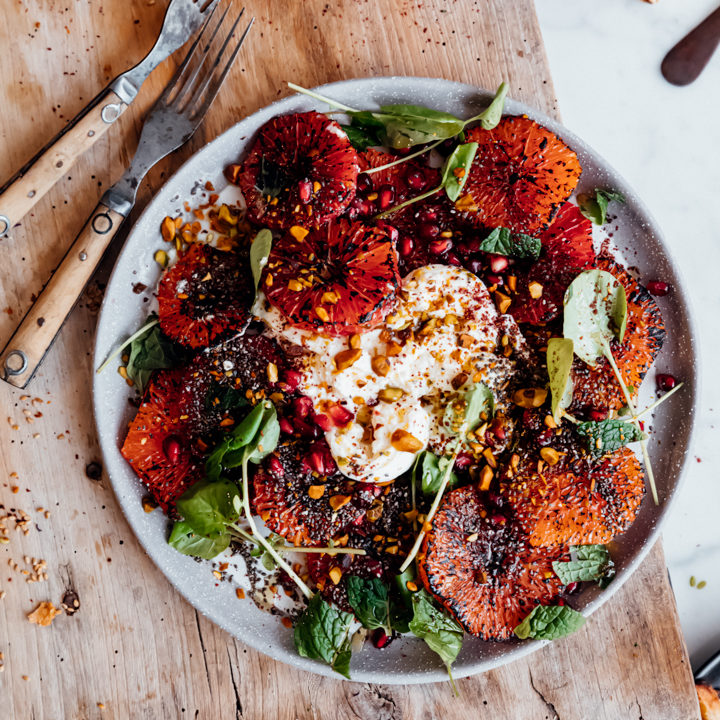 Blood Orange, Burrata and Pistachio Salad
Yield:
5 cups; Serves: 4-6
Charred citrus, creamy burrata, and pistachios come together to create a quick and simple salad that is sure to impress. Wonderful colors and textures collide to create this fun, flavorful and dynamic salad with a surprise hint of smokiness.
Ingredients
2 cara cara oranges
2 blood oranges
6 ounces burrata cheese
½ cup pomegranate seeds
¼ cup pistachios, roughly chopped
1 tablespoon chia seeds
1 teaspoon sumac
5 tablespoons olive oil
1 teaspoon flakey sea salt
1 teaspoon fresh cracked black pepper
1 ounce watercress
1 bunch mint, torn into pieces
Instructions
Slice a thin sliver off the top and bottom of each orange so that the orange stands flat. Then use a small sharp knife to carefully cut downwards along the curve of the orange to remove the remaining rind and the pith (the white membrane). After peeling, slice the oranges into segments.
You can use one of two methods to burn the orange slices: either use a kitchen torch (highly recommended) or heat a frying pan on very high heat until scorching hot, brush a little olive oil onto both sides of the orange slices, and place them in the pan. Cook until they begin to lightly blacken/charr, about 30 seconds.
Place the burrata cheese directly in the center of a serving plate and either leave it whole or pull it apart into quarters if you like. Arrange the orange slices around the cheese in alternating colors. Scatter the pomegranate seeds, pistachios, chia seeds, and sumac on top. Drizzle with olive oil, season with flakey salt and fresh cracked pepper, and scatter the watercress and torn mint on top. Serve immediately.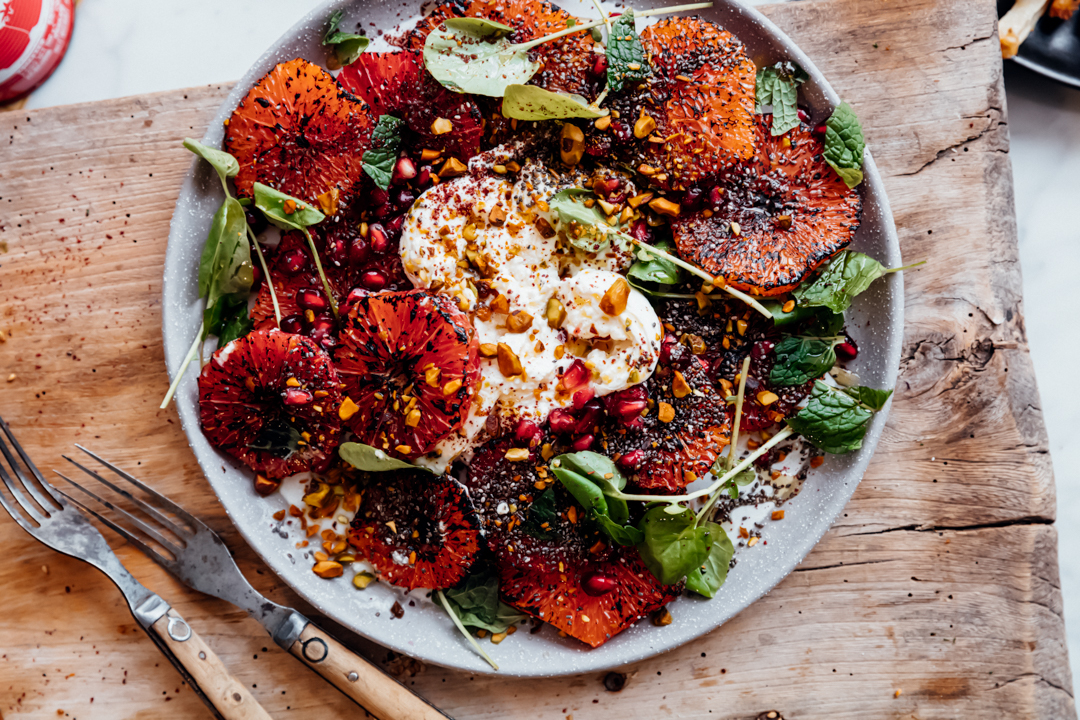 Ingredient Notes
The other elements in this dish might not be your typical salad toppers, but once you try them, I think you'll love them. Sumac is a dried spice with a bright, tart flavor that mimics citrus. Chia seeds add a fun textural component and extra crunch. And pomegranate is everyone's favorite wintertime fruit with juicy ruby red seeds that really pop.
If this winter salad is a new favorite of yours, come follow along on Instagram, where I'm always sharing new recipes for the seasons.
Get These Posts in Your Inbox
---
You might also like...