We escaped.
My friends Mona, Jaret, Russ and Sarah and I stole 24 hours out of our packed schedules to breathe, connect and create beauty together. Hours passed by and somehow time seemed to stand still.
We spent the entire day outside. It was cold – snowing and completely freezing. But it didn't matter. We cooked and feasted. Hours of REAL conversation felt like a deep breath of fresh air. There were laughs. Exposed hearts. We shared not only our dreams, but the pursuit of them – and –  the reality behind chasing after the "has yet to be".
Woods, cabin, river, snow, beauty, like minded hearts, rich souls, connection, creativity, heart. I still feel refueled. There couldn't have been a more rewarding 24 hours spent.
[This is Part I of II.
See corresponding post here
]

There are few words to describe this magical, stolen day, so I'll just let the images tell the story & say this:
Incredible things happen when you get amazing people around a table that see the world the same way. Beauty opens up when you surround yourself with friends who are real and vulnerable. Who open up and share struggles. Friends who recognize greatness in each other and champion it.
I hope you feel inspired by this story & plan your own escape soon with friends…. Pack up, go, & gather.
For the full experience, view the collection with this soundtrack.
This post is part 1 of 2 for an all inclusive menu with recipes for your own getaway with friends.
Part 1 features:
Coffee and Cardamom Braised Lamb Shanks with Figs & Kumquat Gremolata
+
Grilled Halloumi & Flowering Raab with Pistachio-Olive Relish & Pickled Chilis
____________________________________
Concept development, photography, art direction, prop sourcing & styling, writing by Christiann Koepke
Recipe development, menu curation, ingredient sourcing, cooking and food styling by Mona & Jaret of Tournant
Location scouting, on site management, production assistant: Russ Lowe
Production assistant: Sarah Knott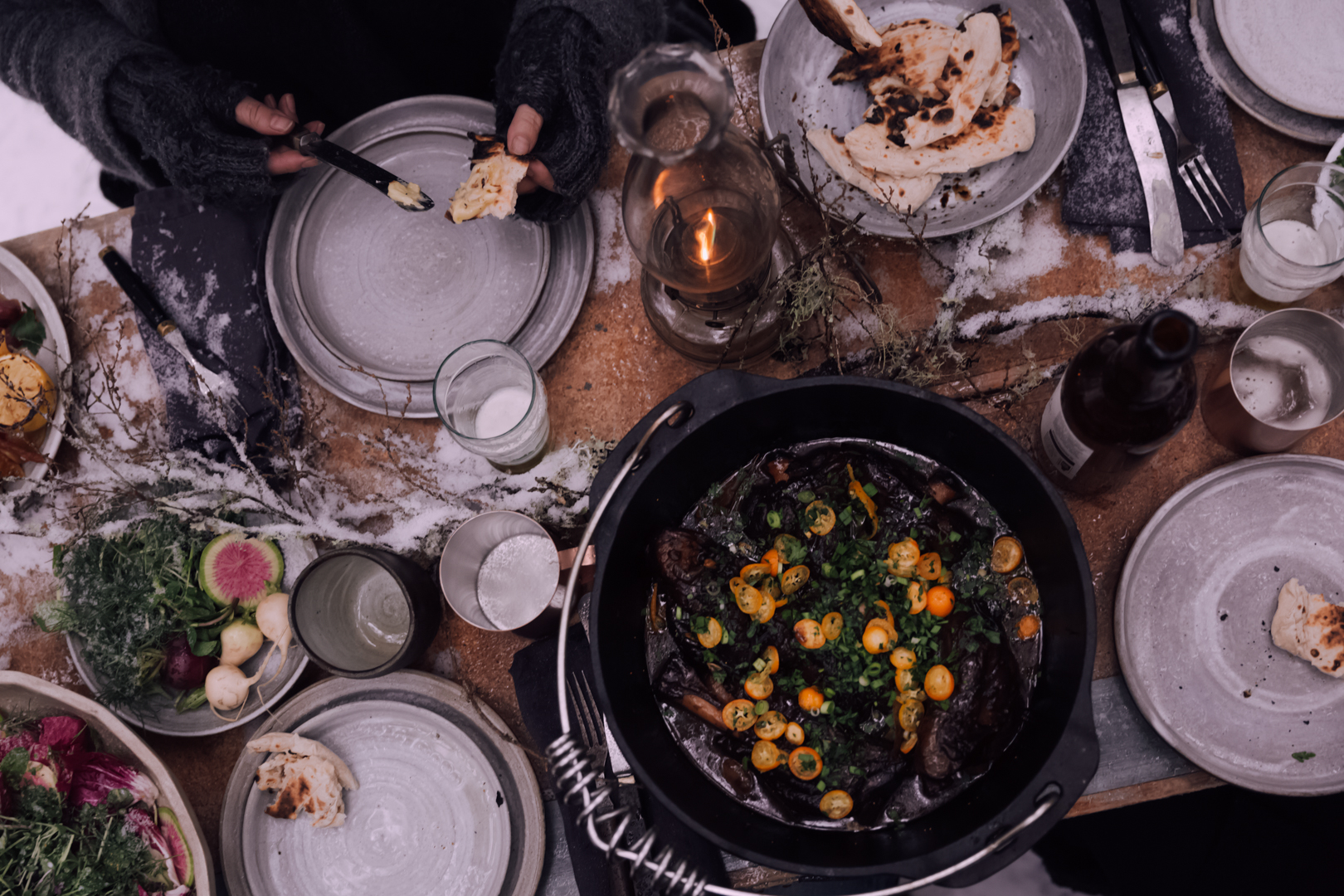 Get These Posts in Your Inbox
---