Welcome to November! I've been saying October is one of my favorite months of the year, and that is true. But one of those reasons is because it leads into November : )…. It's the season where we shift into focusing more on gathering and treasure the beauty of spending time together. I seriously could not be happier!
Naturally, I'm always thinking of ways to entertain. As time is precious, I look for ways to host a party with ease. Being intentional about how to do so makes living and creating more moments seem attainable.
Wanted to introduce you to Lundberg Family Farms and their brand new Organic Grainspirations Arancini frozen appetizer line! These gourmet rice bites are made with whole grain rice cooked risotto style, then rolled into balls and covered with brown rice breadcrumbs, and lightly fried to perfection. One of the best perks about this line is that they are gluten free. Not only that, they are packed with wholesome, organic ingredients!
These delectable rice appetizers are available in three mouthwatering varieties:
Gouda & Mozzarella

: brown rice stuffed with the finest cheese – heaven for cheese lovers.

Black Rice

: a unique blend of black and brown rice filled with savory cheese, sweet sautéed onion and crisp black pepper.

Gochujang: brown rice balls stuffed with peas, carrots, onions and sesame seeds – inspired by spicy Korean cuisine.
When thinking of what to pair with these for my holiday spread, I couldn't help but think cheese. I mean, how could I not? A friend recently brought back dried chanterelle mushrooms from Norway (yes, I was on cloud nine). I knew I had to make something with them asap! Then another friend suggested incorporating them into a true, European style fondue. YES. PLEASE. That's all it took for me to get cooking.
I hope you enjoy! Happy entertaining – here's to your next stress-free party!
[Content is sponsored and all opinions are my own]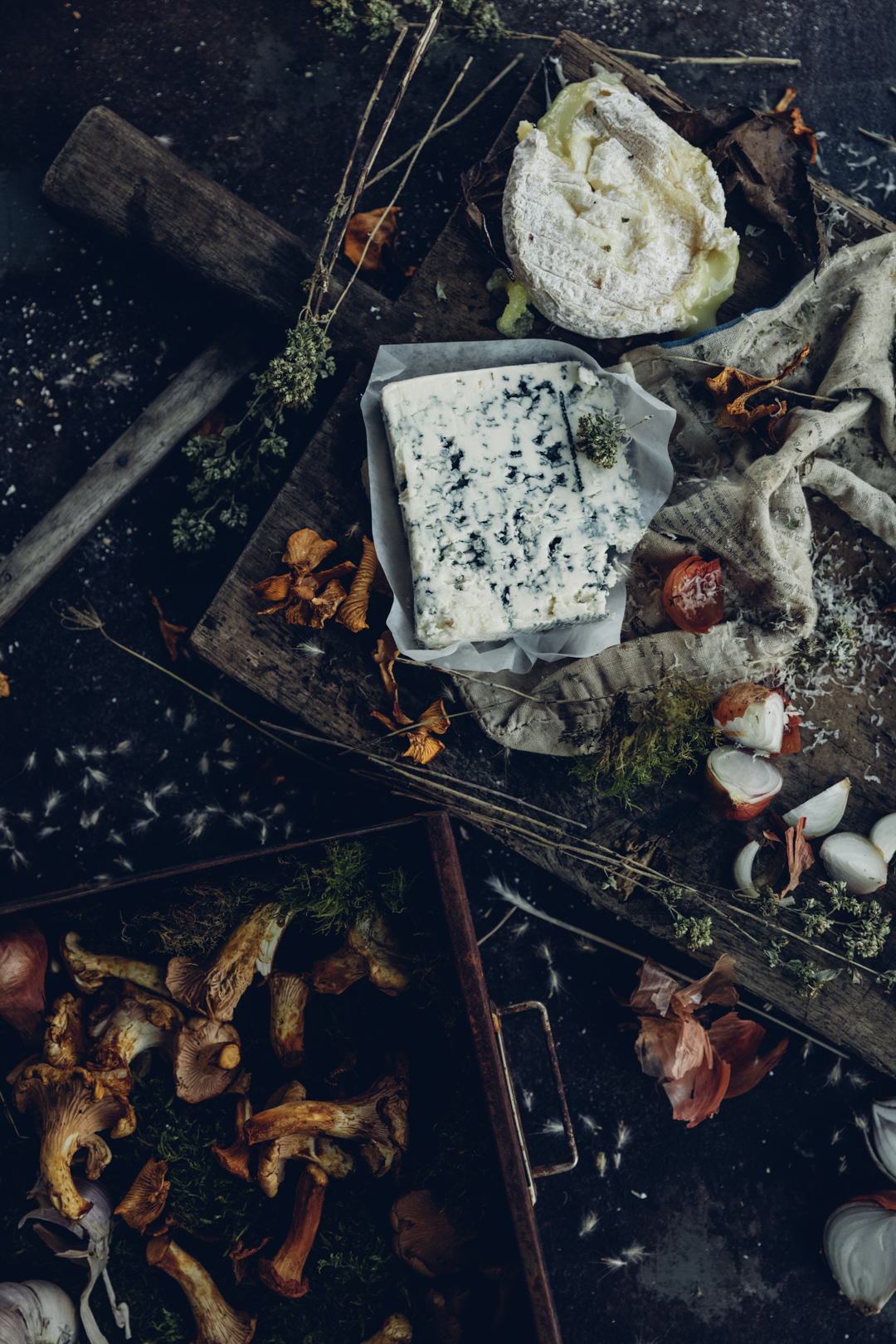 Wild Mushroom Fondue
Cheese, french wine, wild mushrooms. Need I say more? This easy appetizer will be the next big hit at your upcoming gathering. If you are keen on a subtle mushroom taste, decrease the mushrooms (both dried and fresh) by half.
Ingredients
1

cup

water

.5 ounce dried chanterelle mushrooms

2

tablespoons

butter

4

ounces

fresh chanterelle mushrooms

stemmed, finely chopped

3

tablespoons

shallot

chopped

1

garlic clove, minced

1

pound

approx. 2 cups comte (or similar french cheese), rind trimmed, cheese cut into 1/2-inch pieces

2

tablespoons

cornstarch

236

ml

1 cup dry french white wine
Instructions
Bring 1 cup water to boil in small saucepan. Add dried mushrooms. Remove from heat and let stand until mushrooms soften, about 20 minutes.

Using slotted spoon, transfer soaked mushrooms to cutting board and coarsely chop. Reserve soaking liquid for later use.

Toss cheese with cornstarch in large bowl to coat. Set aside.

Melt butter in heavy large saucepan over medium heat. Add fresh mushrooms and sauté until tender, about 3 minutes or so.

Add shallot; stir and sauté 1 minute.

Add garlic, stir and sauté for another minute.

Add previously soaked and chopped mushrooms alongside reserved soaking liquid, leaving any sediment from liquid behind.

Increase heat to medium- high. Simmer until liquid evaporates, about 3 minutes.

Add wine to mushrooms and stir. Bring to simmer over medium heat.

Add cheese to mushrooms in 3 batches, whisking after each addition until cheese melts before adding more. Continue whisking (you will have to switch to a wooden spoon or fork as it thickens) until mixture is smooth and just begins to simmer (do not boil).

Season to taste with salt and pepper.
Get These Posts in Your Inbox
---
You might also like...